Great Speeches in History - A
Learn Out Loud
Podcast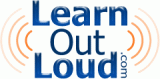 Booker T Washington, 1901 Atlanta Expostion Address
I am mildly embarassed to say that I am 40 years old and have NEVER heard this speech. I recognize the name as an important figure in our nation's history, but I have never listened to or read the words of this brilliant man.
"Cast down your bucket where you are!" If you have never heard this story, then you should listen to it...and learn.
As friends and colleagues ask me what podcasts they should listen too, I can now without hesitation recommend Great Speeches in History with Up from Slavery as an excellent place to start. Sure they have the I have a dream speech but this man,
Booker T. Washington
resonated with me. Heck, I'm not even from the south...southwest yes, but that's not really the south...so I'm told.
Some of the GREATEST men of our time never had the chance to speak at a
TED conference
. So, nows your chance to hear the men who would have been invited had there been a TED Conference 20+ years ago.